The San Francisco International Pen Show is grateful to our generous sponsors who's financial and product support helps put the "FUN" in "The Fun Pen Show". Each one of them is supplying some of their stellar products for our Raffles, Door Prizes, and other services.




Luxury Brands of America is proud to be a sponsor of the San Fransico Pen Show and this year we are bringing some very special guests with us and many special products.
The Xetra Vienna Waldmann pen can be custom engraved by the master of engraving for Waldmann pen, and you will be able to watch her work! Mr. Stefan Schnirch, the President and CEO of Waldmann, will also be joining us at the show.
We will be bringing an extensive lineup of Platinum pens, the CENTURY #3776, the beautiful Izumo, and the very special ink released a few months ago from Platinum, Chou Kuro.
The leather line by Dee Charles with a new pen wrap and the wonderful world of Endless Paperfeaturing Regalia notebooks and the Creative Block.
We have also obtained and donated the 2023 SF PEN SHOW OFFICIAL Ink from Colorverse. With the San Francisco Pen Show Golden Gate Bridge label.



LUXURY BRANDS Prize Donations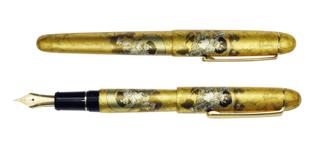 The Waldmann Tapio. The Tapio pen was created by Waldmann as a special thank you to its hometown of Pforzheim, Germany, and the Black Forest. The Tapio is a 925 solid sterling silver cap and barrel with a guilloche line pattern engraved into the cap and barrel. The caps finial is adorned with a black lacquer inlay. Comes in a rollerball, ballpoint, stainless steel, and two-tone 18k gold fountain pen. MRSP of $340.00 to $525.00.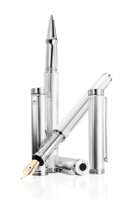 The Platinum CENTURY #3776 "Wind and Thunder God". The pen has 14k gold leafing on the entire pen with the delicate design of the Wind and Thunder God on the cap and barrel and is covered in urushi lacquer to protect this stunning pen for years. This beautiful work of art comes in 14k gold fine medium or broad nibs. MSRP of $550.00.




|
Greetings from Omas!

We are thrilled to be part of the San Francisco International Pen Show as a proud sponsor. As we gear up for this exciting event, we are pleased to announce that Omas is preparing to launch a brand-new pen at the show. While we cannot disclose specific product details at this stage, rest assured that it will embody the exceptional craftsmanship and innovation that Omas is renowned for, and we are particularly excited to share that this exclusive pen will be limited to only 23 pieces Worldwide.

As a token of our appreciation and support, we are delighted to donate one of these exclusive pens to the show for raffle and door prizes. We believe this will add to the excitement and elevate the experience for all attendees.

We truly value our partnership with the show and are excited to be featured in the Sponsor's Corner on the website. We are looking forward to showcasing our commitment to this community and sharing more about the pen closer to the show.

Thank you for this wonderful opportunity, and we share your enthusiasm that it's going to be a fantastic event!

Best regards, Omas





Discover the art of fine writing by Pilot Pen at the San Fransciso Pen Show! Visit the Pilot tables to test and explore every single one of our Pilot Fine Writing pens, available in a variety of nib sizes. Immerse yourself in the world of exclusivity with our showcased Namiki Maki-e pieces and the 2023 Limited Edition Vanishing Point. In addition, we're thrilled to offer you a chance to win a magnificent Pilot Ishime fountain pen, a true masterpiece retailing at $800. Crafted with the ancient "Kawari-nuri" technique, this urushi hand lacquered brass pen features a captivating "stone path" design, meticulously drawn into the lacquer. Its #10 sized 18k gold nib promises an unparalleled writing experience, accompanied by a Pilot Con-70 converter. Don't miss the daily chance to take home this exquisite piece, as we'll be giving away 1 Ishime fountain pen every day of the event!

Pilot Pen's Prize Donations
Due to scheduling conflicts The Pen Family can not be present but is donating several of their pens for Door Prizes.