Paid Classes for the 2022 San Francisco International Pen Show
We are happy to announce our class offerings for this year's pen show! Additions may happen at any time, so stay tuned.
For 2022, class instructors have limited the number of students per class for the safety of everyone involved, and for COVID precautions.
Pre-registration and payment is required to secure your spot for any tuition-based class.
Each student attending a class below requires pen show admission at least for the day of the class itself. If the class is scheduled before General Admission (i.e. 9am), an All Access Pass is not required.
Please note that the

class tuition fees do not include the required pass/admission

.
You may pay for the daily show admission/pass when you get to the registration desk, or reserve and pre-pay for an All Access Pass.
Unless noted otherwise, cancellations will be accepted up to one week prior to the pen show. No refunds will be provided afterwards.
It is HIGHLY recommended to arrive at the hotel at least 15 minutes prior to the scheduled class due to possible lines at the pen show's registration desk.
For any questions, please send an email to: classes@sfpenshow.com.
CLASSES AT-A-GLANCE
Mad Scientist Mode On
Instructor: Leigh Reyes
Friday: 1:00-3:00pm
Notes to Self
Instructor: Leigh Reyes
Sunday: 3:00-5:00pm
Beautify Your Handwriting
Instructor: Sherrie Lovler
Saturday: 9am-12pm
Every Paper has an Origin Story
Instructors: Taizo Yamamoto & Bruce Eimon
Saturday: 12:30-2:00pm
Copperplate Calligraphy
Instructor: Nik Pang
Saturday: 9am-12pm
Introduction to Italic Calligraphy
Instructor: Nik Pang
Sunday: 9am-12pm
Sketchnoting 101
Instructor: Kate Rutter
Saturday: 2:00-4:00pm
Modify your Pilot Parallel Pen
Instructor: Eileen Goldenberg
Saturday: 2:00-3:30pm
Travel and Sketch in TRAVELER's Notebook
Instructor: Janet Takahashi
Sunday: 11:30am-2:00pm
Inkwash Workshop
Instructor: Julia van der Wyk
Sunday: 1:00-3:00pm
** Please scroll down for more class details and registration **
---
FRIDAY – AUGUST 26
Mad Scientist Mode On 2 (MSMO 2)
Instructor: Leigh Reyes
Friday, August 26: 1:00-3:00pm
Tuition: $70
Limit: 20 students
To register, please send an email to: classes@sfpenshow.com
What else can you do with all the ink and paper you have? In this workshop, we discover unusual, playful experiments using everyday stationery supplies.
Materials to bring:
Necessary: a pair of scissors, mask, tissues
Your own notebooks, inks, pens if you like
Materials I will bring for you:
Ink, paper, mad scientist supplies
(These materials are included with the $70 workshop fee)
Leigh is a writer, a creative strategist for brands, and a fan of humans.
Find her on the web: https://leighreyes.com/, LinkedIn, YouTube, and Instagram.
---
---
SATURDAY – AUGUST 27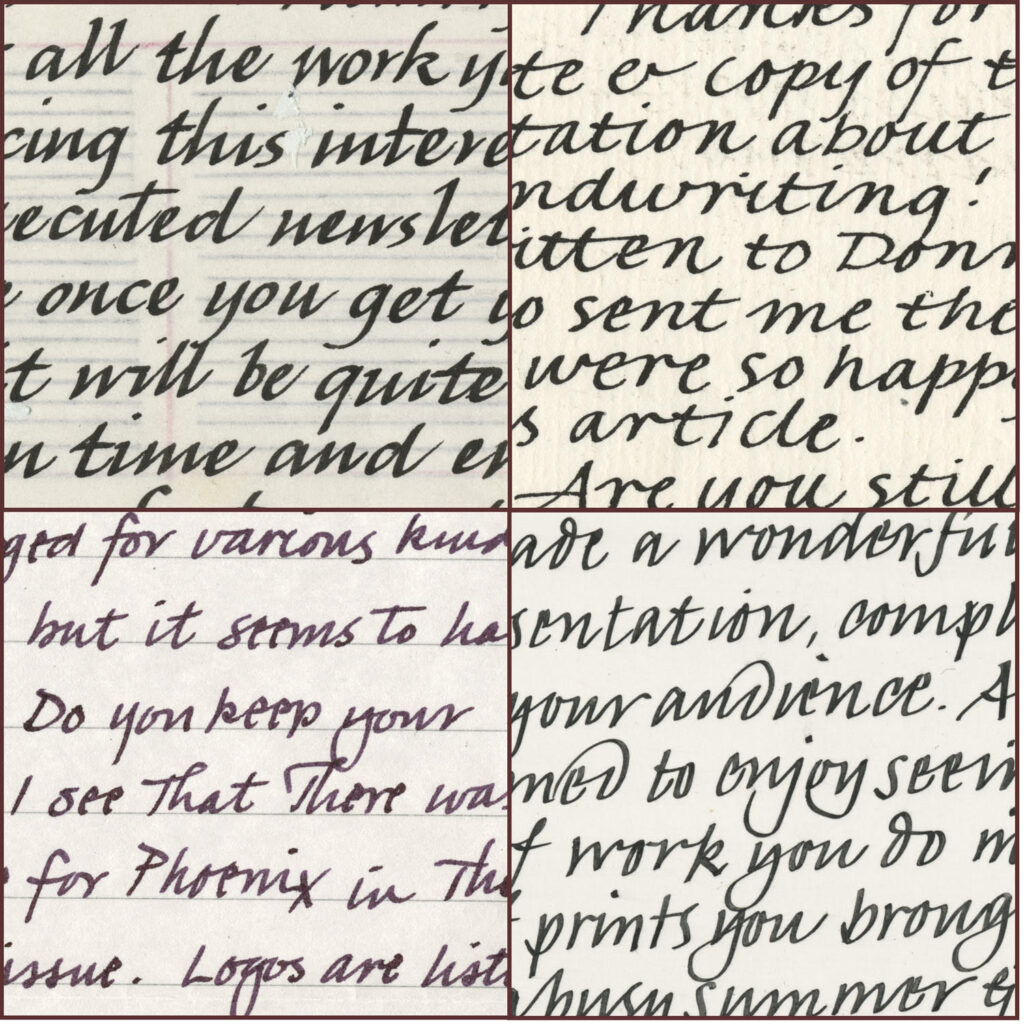 By simply using a flat nib pen, held in the proper way, your handwriting will look significantly better. But what if you knew the secrets professional calligraphers use to create a personal style? We will begin with your current handwriting and experiment with changes in rhythm, speed, height, stretching and compressing, even adding a flourish or two.
The goal is for you to enjoy your handwriting enough to make you want to . . . well . . . write letters again!
$95 includes a felt tipped flat pen and paper. If you have a flat nib fountain pen 1.1 mm or smaller nib, bring it.
Masks (well-fitting, protective masks, preferably N-95, KN-95 or KF-94) will be required in the classroom.
Sherrie Lovler is an internationally known calligrapher and artist. She has been teaching calligraphy and related arts for over 30 years through adult education programs, art guilds, Ghost Ranch, International Calligraphy Conferences and accredited courses at Northern Arizona University. Her art has been in many juried shows both locally and nationally, and in her recently published book, On Softer Ground: Paintings, Poems and Calligraphy.
Sherrie's work can be seen at https://www.artandpoetry.com and https://shop.inkmonkey.com.
---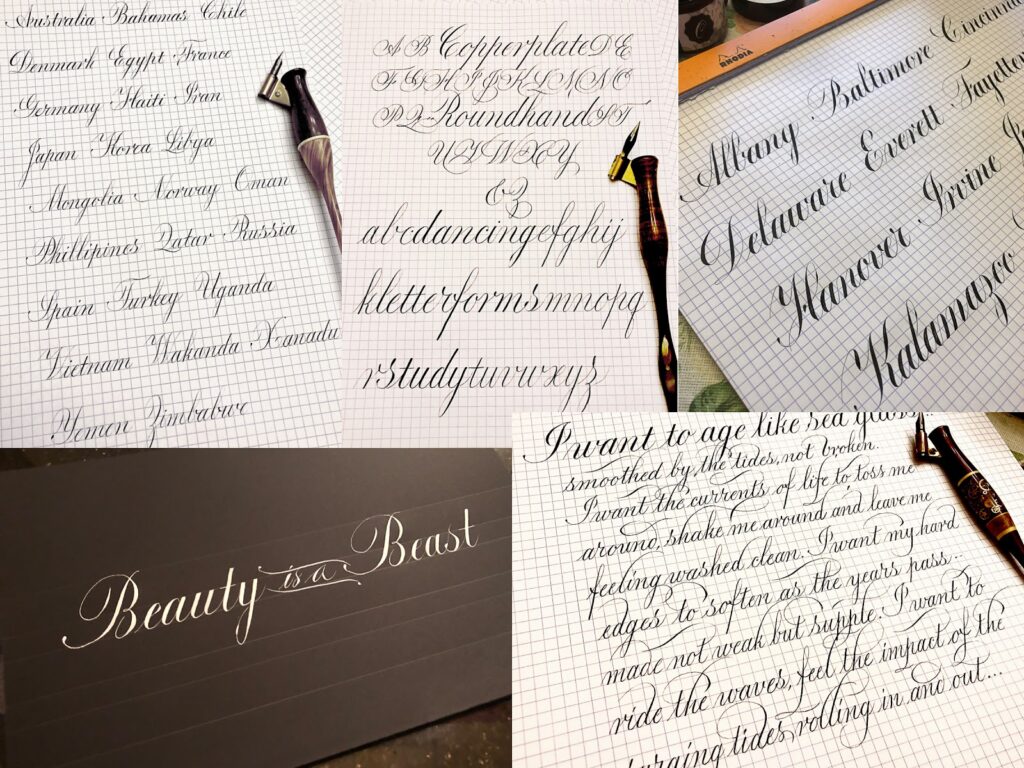 Copperplate Calligraphy
Instructor: Nik Pang
Saturday, August 27: 9am-12pm
Tuition: $80
Limit: 20 students
To register, please send an email to: classes@sfpenshow.com
Come learn the beautiful calligraphic style of copperplate script! Copperplate calligraphy, also known as roundhand, engrosser's, and engraver's script, is considered by most to be the mother of all pointed pen hands. It still stands as one of the most recognizable and highly demanded design elements in pointed pen calligraphic works.
In this course, we will go over a concise version of its history and learn to use dip pens in order to form the basic strokes of its construction. This course is geared towards beginners but those with more experience may attend it as a refresher course and I do my best to teach to the level of each individual in the second half of the course (plus it's always nice to have experienced attendees help).
The course is $80 for the 3 hours and includes all the tools (nibs, holders, papers, handouts). Attendees are welcome to bring their own supplies for use if they wish.
I also encourage attendees to bring a pencil and ruler with them.
Nikola Pang is a calligrapher from California who has been studying and practicing classic western calligraphy professionally since 2013. He has done event work for clients including Montblanc and Cartier and a number of private commissions. Currently he does contract certificate and special awards work and teaches classes in letterform and calligraphy at Stanford University.
---
Every Paper has an Origin Story
Instructors: Taizo Yamamoto and Bruce Eimon
Saturday, August 27: 12:30-2:00pm
Materials Fee: $5 per person
Limit: 20 students
To register, please send an email to: classes@sfpenshow.com
Taizo Yamamoto, owner of Yamamoto Paper, and Bruce Eimon, owner of Think on Paper, will walk you through 18 different kinds of Japanese fountain pen friendly paper and explain the backstory of each. You will get to write on all 18 papers to hone in on your likes and dislikes.
The writing session will be followed by a talk by Mr. Yamamoto on the challenges being faced by the Japanese paper industry, as seen in the recent Tomoe River saga.
This set of papers includes 6 new papers not included in Yamamoto Paper's Fountain Pen Friendly Paper Collection #6.
Please bring your own writing instruments to test the paper with.
This class is tuition free; however, we do require a $5 fee for the materials provided to each participant.
Please send an email to: classes@sfpenshow.com to register, which will be finalized upon payment.
---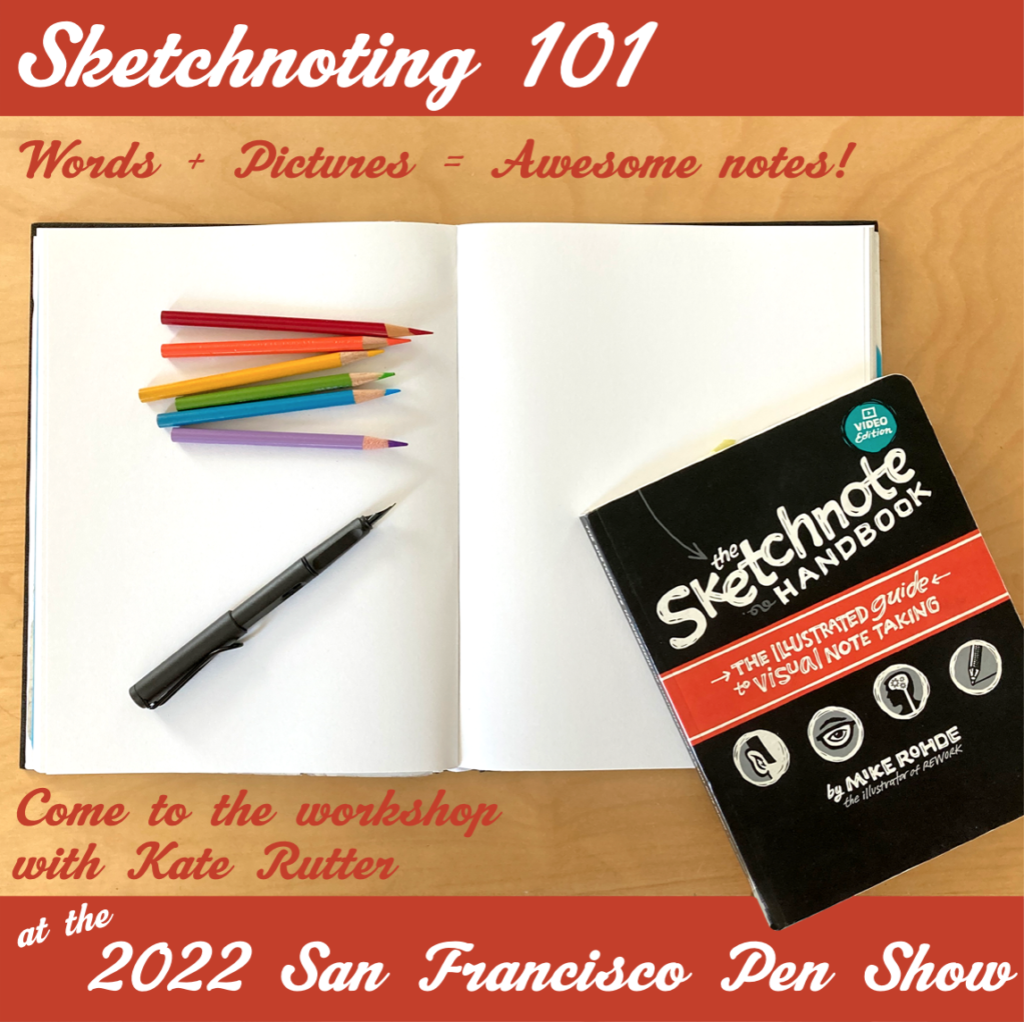 Sketchnoting 101: Words + Pictures + Ideas = Awesome notes!
Instructor: Kate Rutter
Saturday, August 27: 2:00-4:00pm
Tuition: $65
Limit: 15 students
To register, please send an email to: classes@sfpenshow.com
Give your notes a makeover with Sketchnoting! Visual note-taking (aka: sketchnoting) is a fabulously fun technique used to transform simple notes into rich visual summaries. It's a great way to capture ideas, remember them, and share them with others. Whether used as a personal tool or to share information with others, sketchnotes are a powerful way to create memorable, engaging info summaries while you also practice your unique visual style.
In this hands-on workshop, you'll create a personal visual vocabulary, practice simple lettering techniques, and get familiar with structuring information into common layout patterns. Then you'll bring it all together with a practice run capturing a sketchnote in real time, and further hone your skills with collaborative feedback and critique.
If you're new to sketchnoting, this is a fun and fast way to get started. If you're a seasoned sketcher or visual note-taker, you'll advance your practice in a whole new way!
Please bring:
Your favorite writing pens
Your favorite notebook/paper/journal/sketchbook
A grey marker, pen with ink or grey pencil
Any color media that you like to use (such as colored ink, markers or pencils)
Your enthusiasm and energy
The instructor will provide:
Regular letter-sized paper
Pre-printed practice templates for activities
An assortment of colored pencils
A box where you can store your inner critic during the session
Kate is a sketchnoter, graphic facilitator, nature journaler, and a lover of all things sketchy. As principal at Intelleto, she creates visual explanations that make complex ideas simple, memorable and shareable. Kate has been a visual practitioner for over 25 years, using a broad range of sketching techniques to support communication in organizations big and small. She's sketchnoted 100s of events, led workshops for clients including the Stanford d.school, Uber, Walmart Labs, Google, Singularity University and General Assembly, and teaches interaction design at the California College of the Arts.
Kate believes that sketching is the engine of curiosity, that sharpie pens smell like ideas, and that the touch of pen to paper opens a world of personal expression, wonder, and magic. Kate tweets and instas at @katerutter, blogs at www.intelleto.com and co-hosts the NSFW podcast What Is Wrong With UX.
---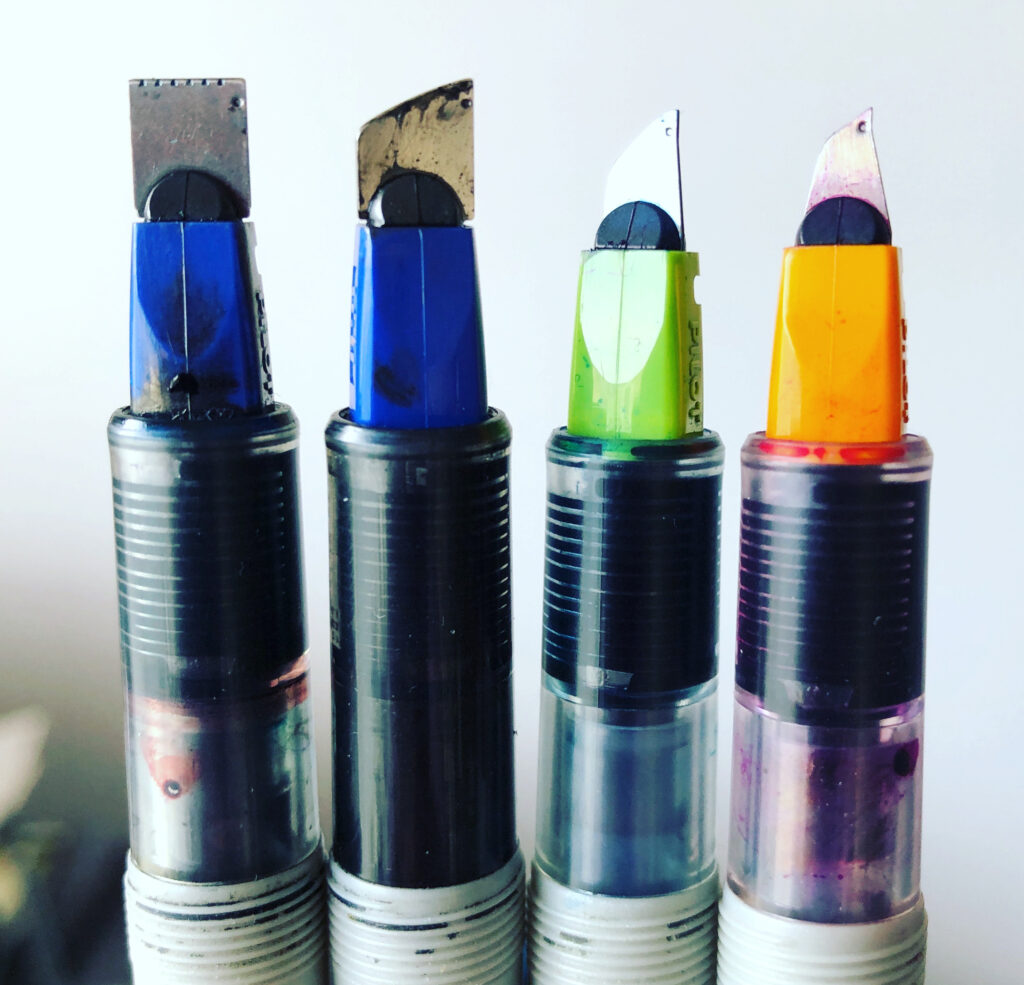 In this FUN class we will try out a few different sizes of modified Pilot Parallel pens. Then I will teach you how to change the shape of the nib to get line variation and a more comfortable sketching position.
If you are in San Francisco, I would suggest you go to Arch Art Supply to purchase pens, at 1490 17 th Street. They have an excellent selection of sketchbooks, ink and many other art supplies. You can also purchase sets of 4 or all 6 sizes on Amazon.
Questions? eileen@goldenbergdesigns.com
Supply list:
At least one 6.0mm Pilot Parallel pen with all the tools included in package
Sketchbook/paper to try out pens and do some sketching or calligraphy.
Sandpaper: grade 180, 220 and 600, one sheet each
---
---
SUNDAY – AUGUST 28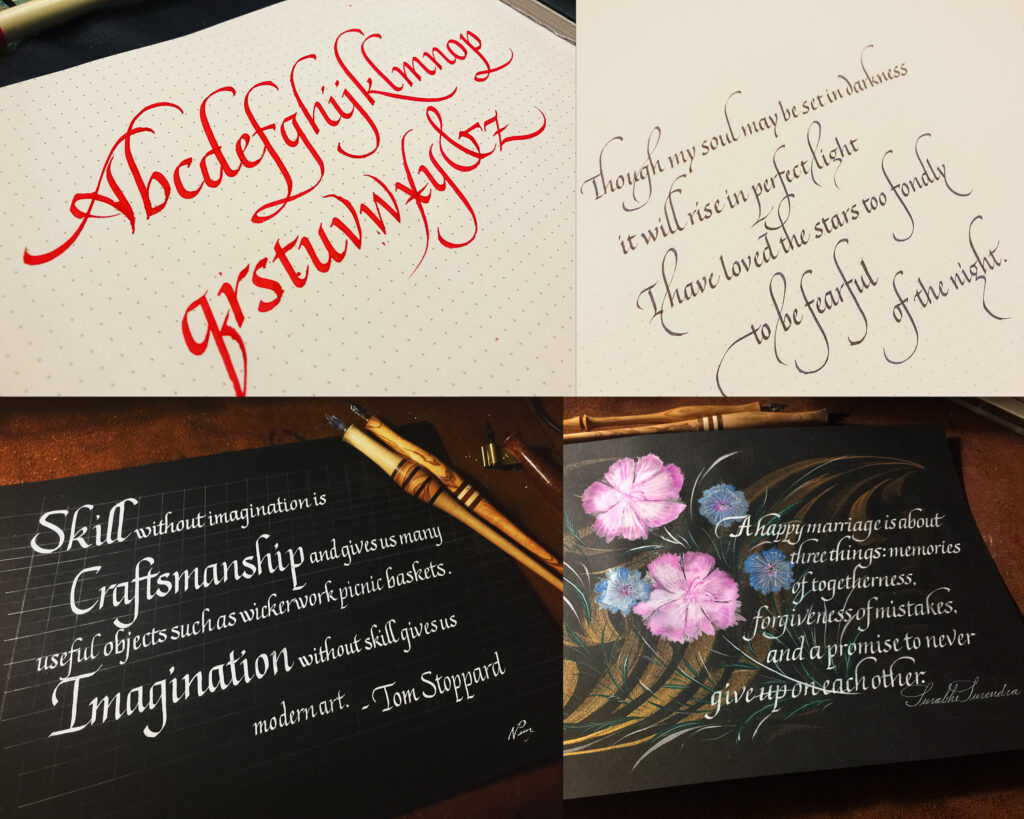 Introduction to Italic Calligraphy
Instructor: Nik Pang
Sunday, August 28: 9am-12pm
Tuition: $80
Limit: 20 students
To register, please send an email to: classes@sfpenshow.com
Join me in learning the beautiful, classical, forms of Italic script! Cancelleresca, or Chancery hand, came about from a marriage of humanist and Roman forms and really hit its stride during the period we know as the Italian Renaissance. These scripts were so popular in their multitude of variations that they quickly became adopted by both the church and became adopted throughout the old world as a standard. This widespread use lead the slanted, broad pen, script to such renown that, even today, we still call many small broad nibs "italic". Classically beautiful, flowing, very nearly ideal in readability and highly refined through the ages it's no wonder that Italic is still considered by a large number of calligraphers and typographers to be a "perfect script".
In this course we will focus on the history, forms, and execution of creating classic (and perhaps a few contemporary) Italic hands.
The course includes all materials and handouts. If you wish to bring your own tools feel free.
Attendees are also encouraged to bring their own ruler and mechanical pencil if possible.
---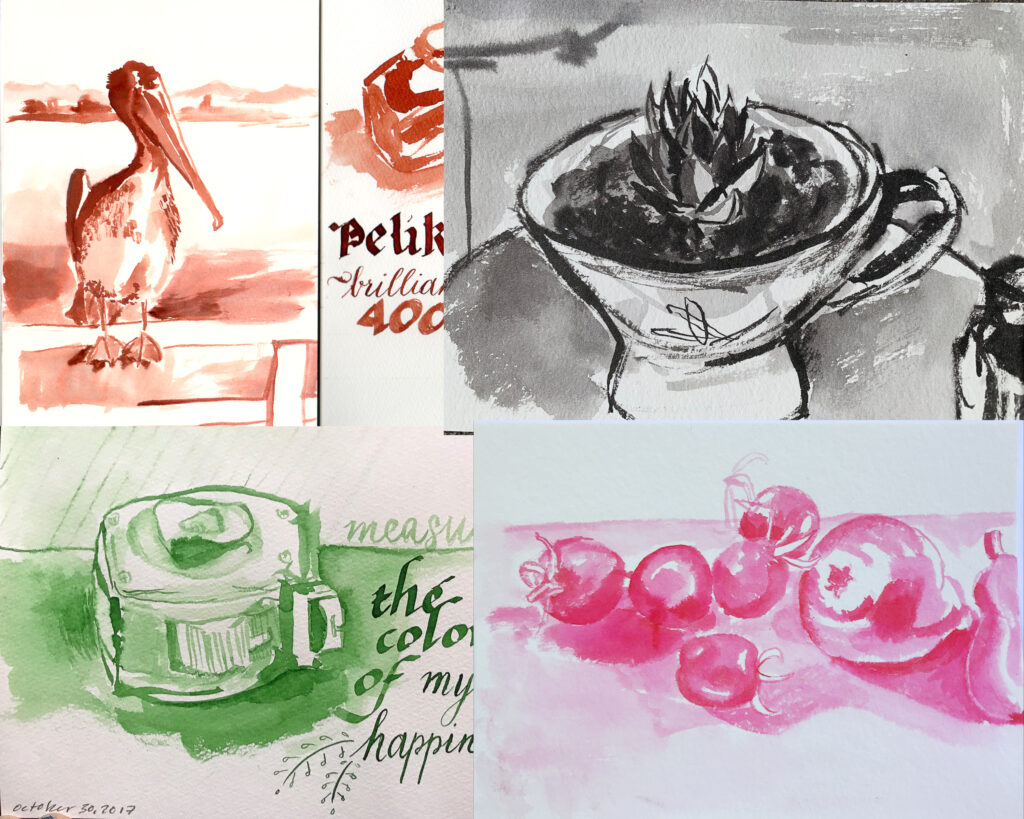 Inkwash Workshop: Painting with Ink
Instructor: Julia van der Wyk
Sunday, August 28: 1:00-3:00pm
Tuition: $85
Limit: 15 students
Register for this class here: https://juliavanderwyk.com
This one is for the ink-lovers! Learn brush and ink techniques to explore the depth and range of your favorite inks! Students will practice brush handling, experiment with water and paper, and create an art piece in this hands-on workshop.
Bring an object for still life, or paint from memory and imagination.
Materials included in class fee.
About Julia: I attached to pen and ink media early on in life, becoming enamored of Pelikan drawing inks in grade school (the Pelican logo! the umlauts!) and the world of dip calligraphy nibs and the Speedball lettering handbook.
My university degree is from UCSC in Fine Art Printmaking and Painting. During that time I took a class in chinese calligraphy from calligraphy master Wang Dongling which brought back my original love of brush and ink, and has influenced my approach to art and making since.
In 2011 I started to participate in the fountain pen community, largely online. In 2015 I attended my first pen show, where I was able to meet Internet friends, proprietors and makers in person. I am very pleased to offer a class in painting with ink to my beloved fountain pen community. My hope is that this content will enhance and complement the show experience, and bring the joy of brush and ink to all who attend.
---
Add colors to your next trip by learning how to document them in your TRAVELER'S notebook. Aside from taking photos with your phone, capture highlights through doodles, sketches, and words on paper. Each time you open your TRAVELER'S notebook and see those memories, it's as if you're traveling all over again.
Artist and Urban Sketcher Janet Takahashi is an avid TRAVELER'S notebook user and loves capturing scenes and stories in her travels with her sketchbook and paintbox. She will take you on an imaginary trip through San Francisco, documenting snippets of the day trip with drawings and journaling. Learn how to add watercolor to your pages with a simple setup, you can TRAVEL and SKETCH anytime, anywhere with TRAVELER'S notebook. Learn more about Janet Takahashi at https://janettakahashi.com/
INCLUDED: A pre-assembled set of TRAVELER'S notebook Watercolor Paper Notebook (Regular Size) and scrapbooking ephemera
Learn tips and techniques for sketching on the go with a few essential tools and your TRAVELER'S notebook.
Drawing and simple watercolor techniques
Combine lettering and visuals within a page layout
Record your observations on your journey
For all levels (beginner-friendly)
SUPPLIES (Bring your own):
Pencil, eraser, ruler, glue sticks
Fountain pen with water-proof ink (eg. Platinum Carbon ink, Sailor Pigment Ink Seibouku/Souboku)
Pigment ink pens, waterproof (eg. Uniball Pin Fineliner, or Sakura Pigma Micron PN)
Watercolors. Small travel set or portable travel palette of your choice
Watercolor brush or water brush. Round No. 6 – No. 8 or a water-filled barrel-type water brush.
*Watercolor and brush are available to purchase at TRAVELER'S COMPANY USA booth). Paper towels, water containers, washi tape, scissors, and glue sticks will be available at the workshop.
---
Notes to Self: Reminders Made Remarkable
Instructor: Leigh Reyes
Sunday, August 28: 3:00-5:00pm
Tuition: $40
Limit: 20 students
To register, please send an email to: classes@sfpenshow.com
We can be our own worst personal assistant. Let's recruit creativity, pens, ink, and paper into making our notes to ourselves just a little bit too remarkable to ignore. (With a little help from some of my favorite thought modes and frameworks!)
Materials to bring:
Necessary: a pair of scissors
Your own notebooks, inks, pens if you like.
Materials I will bring for you:
Ink, paper, water brushes
(These materials are included with the $40 workshop fee)
Leigh is a writer, a creative strategist for brands, and a fan of humans.
Find her on the web: https://leighreyes.com/, LinkedIn, YouTube, and Instagram.
---
---