We are happy to announce the classes for the 2021 San Francisco International Pen Show! Please stay tuned for any other additions as well.
For 2021, we have limited the number of students per class for COVID precautions and the safety of everyone involved.
Pre-registration and payment is required to secure your spot for any tuition based class.
Each student attending a class below requires a show pass for the day of the class itself. The class tuition fees do not include the required show pass. You may pay for a show pass when you get to the registration desk, or reserve and pre-pay for an All Access Pass.
Please note that cancellations will be accepted up to one week prior to the pen show. No refunds will be provided afterwards.
For any questions, and/or to register for a class, please send an email to: classes@sfpenshow.com.
FRIDAY, August 27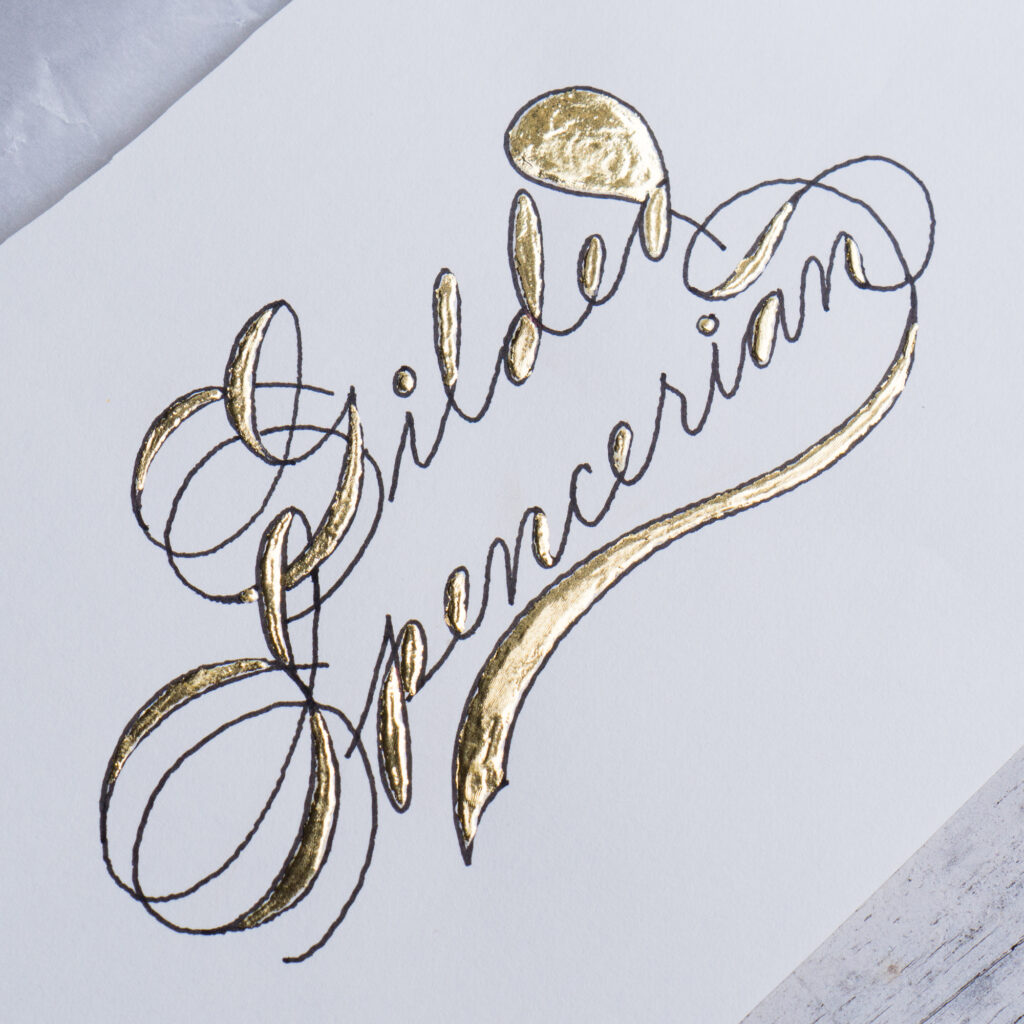 Gold Leaf and Fountain Pen Spencerian: Elegance in Writing!
Instructor: Michael Sull
1:00-5:00pm
Tuition: $110 (Inclusive of $25 materials fee)
Limit: 15 students
Traditional Spencerian letters and flourishes display characteristic shaded strokes in appearance. These shades hallmark such vintage penmanship with visual elegance and ornamentation. And yet, such shades can be outlined to become the receptacle of the most elegant material of all: pure gold!
In our 4-hour workshop we will learn and practice the easy technique of laying 23.5 kt. Gold leaf within these beautiful forms to create the lustrous effect of adding such ornamentation that Platt Rogers Spencer never dreamed of. Join us for this unique adventure in Handwriting! Participants will be introduced to the methods of achieving Gilded Spencerian by manipulating Capitals and flourishes, and applying pure gold leaf for a stunning effect.
No prior skill is necessary; only your patience is required. Bring your own fountain pen and a pencil. Explanatory handouts and all other materials will be furnished. I'm excited to offer this class; hope you can join us!
---
SATURDAY, August 28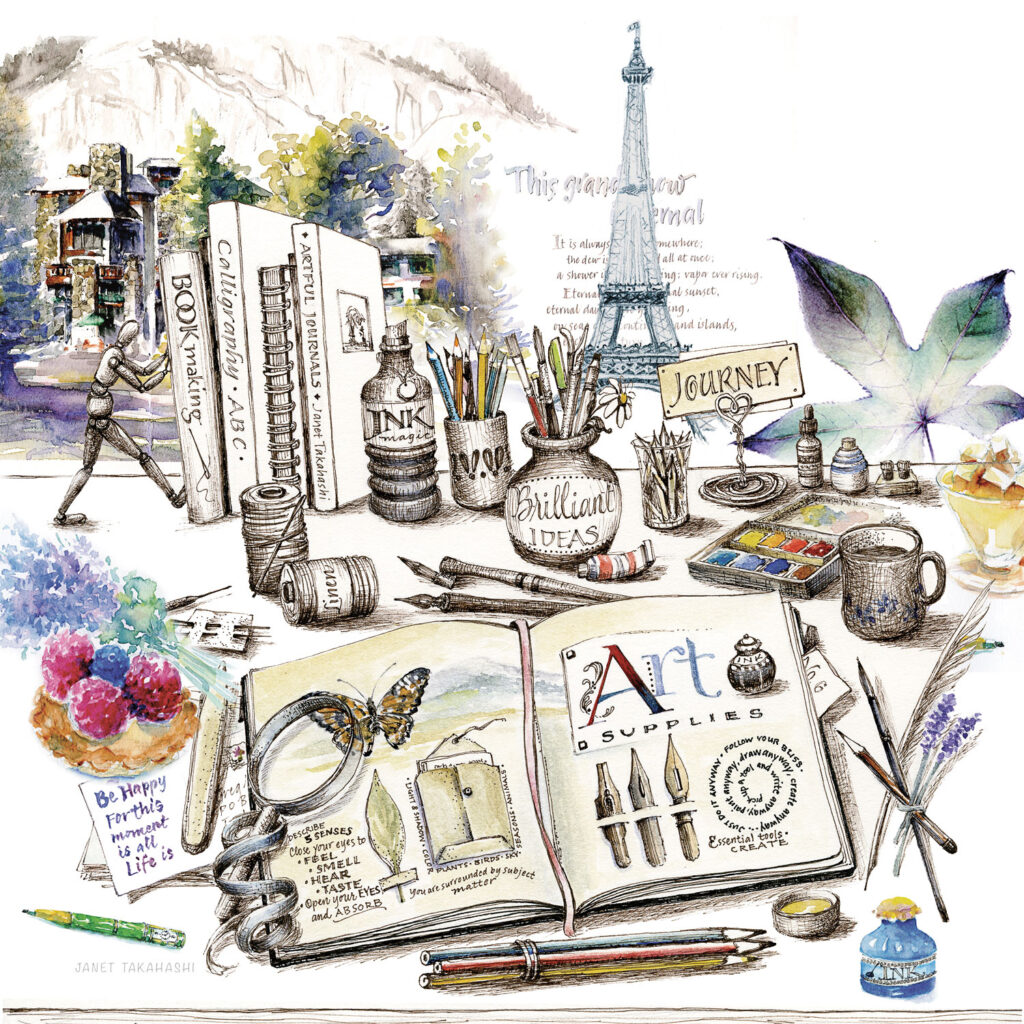 Have Sketchbook Will Travel
Instructor: Janet Takahashi
9:00am-12:00pm
Tuition: $60 – supply surprises included!
** This class is now FULL. To be placed on a waitlist, you may send an email to classes@sfpenshow.com **
Limit: 10 students
Open to all levels
Tips and Techniques for sketching on-the-go with a few essential tools and your sketchbook. Fill your pages with a series of explorations in pen and ink, pencil and watercolors.
Unleash the power of your fountain pen.
Drawing and simple watercolor techniques with step-by-step exercises.
Unlock the mysteries of travel journaling.
Combine lettering and visuals within a page layout.
Record your memories and observations on your journey.
SUPPLIES:
SKETCHBOOK of your choice. Select a sketchbook with a paper that takes multi-media, suitable for watercolor and pen and ink. Any size.
FOUNTAIN PEN with water-soluble black ink, or color of your choice.
PIGMA MICRON PEN, waterproof black, 02 (included)
HB PENCIL & ERASER
WATERCOLORS. Use your small travel set or borrow mine.
WATERCOLOR BRUSH, round no. 6 (It is nice to have a large, small, and flat brush. In that case: a round no.8, no. 4 and approx. ½" flat.
A few COLORED PENCILS
Optional: hand held pencil sharpener
Optional: Waterbrush, Fill the plastic barrel of this portable brush with water and paint​anywhere. Perfect for travel.A few COLORED PENCILS
Optional: hand held pencil sharpener
Optional: Waterbrush, Fill the plastic barrel of this portable brush with water and paint​anywhere. Perfect for travel.
These Supplies will be provided for your use:
Watercolors, small set
Glue Stick
Scissors
Paper Towels
Water container
For more information about Janet and her work, please visit www.janettakahashi.com
---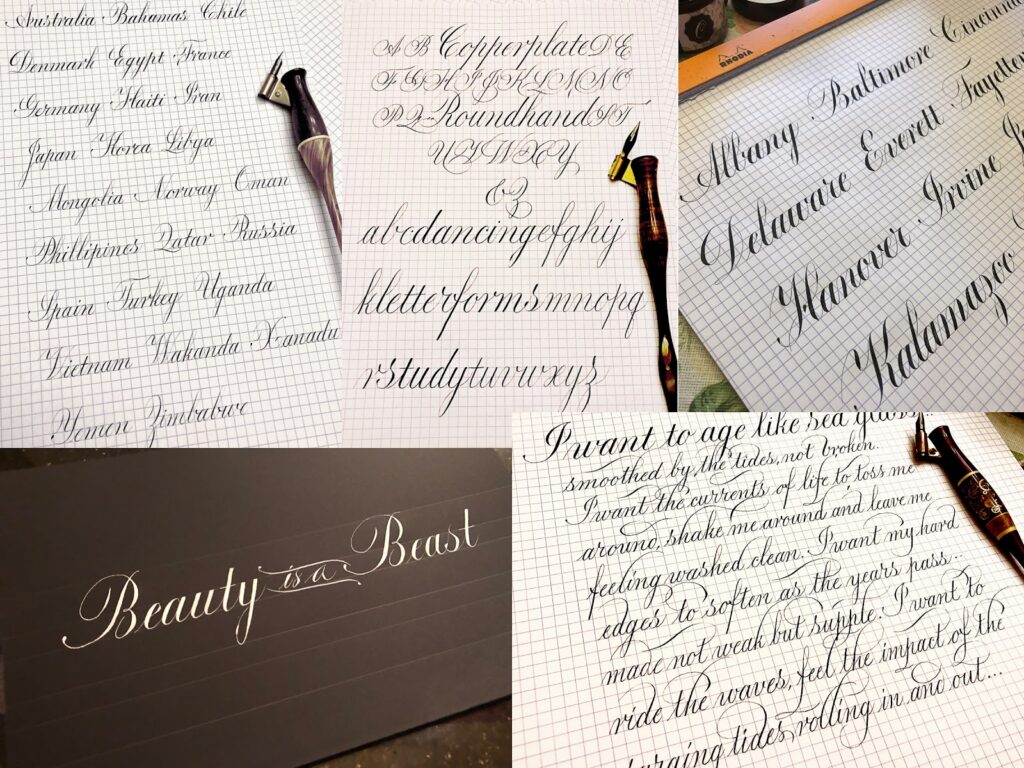 Copperplate Calligraphy
Instructor: Nik Pang
9:00am-12:00pm
Tuition: $80
Limit: 15 students
Come learn the beautiful calligraphic style of copperplate script! Copperplate calligraphy, also known as roundhand, engrosser's, and engraver's script, is considered by most to be the mother of all pointed pen hands. It still stands as one of the most recognizable and highly demanded design elements in pointed pen calligraphic works.
In this course, we will go over a concise version of its history and learn to use dip pens in order to form the basic strokes of its construction. This course is geared towards beginners but those with more experience may attend it as a refresher course and I do my best to teach to the level of each individual in the second half of the course (plus it's always nice to have experienced attendees help).
The course is includes all the tools (nibs, holders, papers, handouts). Attendees are welcome to bring their own supplies for use if they wish. I also encourage attendees to bring a pencil and ruler with them.
Nikola Pang is a calligrapher from California who has been studying and practicing classic western calligraphy professionally since 2013. He has done event work for clients including Montblanc and Cartier and a number of private commissions. Currently he does contract certificate and special awards work and teaches classes in letterform and calligraphy at Stanford University.
---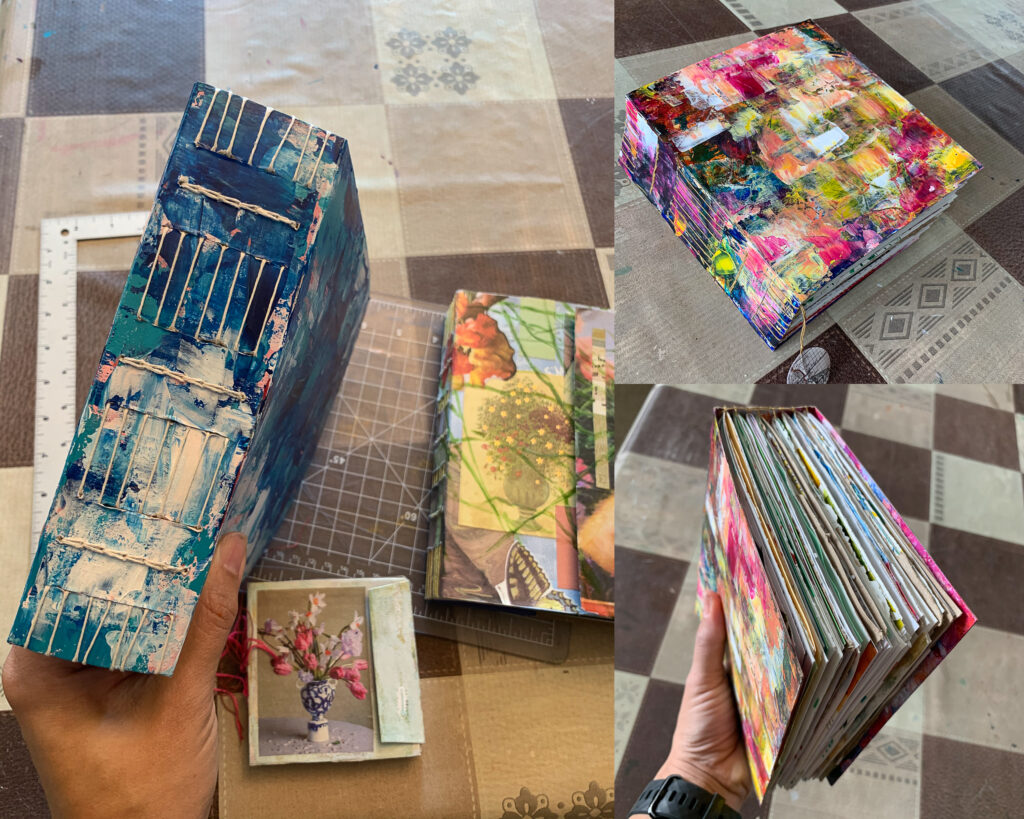 Jammin' Jumbo Junk Journals with Mi Mo
Instructor: Michelle Morin/ Mi Mo
9:00am-12:00pm
Tuition: $100 total ($75 plus $25 materials)
Pen show admission required (not included). Sorry, no refunds.
Limit: 15 students
In this class, we will combine chosen/purchased and found materials (cracker boxes, junk mail/envelopes, used wall calendars, leftover or offcut art papers, etc.) to create and hand-bind satisfyingly chubby "junk journals" using long stitch and chain stitch bookbinding techniques. We'll learn how to make a custom-fit piercing guide and how to make a piercing cradle from recycled materials. You'll also learn to see potential recyclable journal material all around you!
As time permits, we'll share ideas for decorating and using your jumbo junk journals and show you a smaller, pamphlet-stitched variation on the "jumbo" journal.
Making a journal yourself, from found or recycled materials, is incredibly freeing… and addictive. These books can be used for so many types of creative expression! I use mine as mixed-media art journals, sketchbooks, storehouses for ideas or images I want to explore later, and as a place to stick collage art… the sky's the limit.
Materials provided:
All materials for making the piercing cradles (one per person)
Curved bookbinding needles and bookbinding thread
Recycled journal cover (pre-cut from cardboard boxes such as frozen pizza boxes, Ritz cracker boxes, graham cracker boxes)
Selection of recycled and new papers (magazines, brown packing paper, used and blank sketch and calligraphy papers, junk mail, wall calendar, etc.) with which to fill the journal.
Bookbinding tools (these are shared, not for you to keep! But I will have several awls, cutting tools, scissors, rulers, cutting mats, pencils, papers, paper clips, binder clips, beeswax for waxing the thread, etc. that everyone may use.)
You may choose to bring:
Your own choice of cardboard cover material or papers with which to fill your journal – for example, those pen catalogs and magazines they hand out at the pen show! (totally optional)
You may wish to bring your preferred fountain-pen friendly papers to mix in with the "junk" papers, if you wish to make a fountain-pen specific journal.
If you are a seasoned bookbinder and want to use your own awl, bone folder, cutting tools, metal ruler, piercing cradle, needles, threads, etc., please feel free to bring them. (totally optional)
Michelle Morin ("Mi Mo") enjoys learning and creating across several visual arts and calligraphic traditions, including mixed-media, watercolor, hand bookbinding, calligraphy and lettering. Mi Mo teaches Copperplate-based Modern Calligraphy and has hosted calligraphy study groups and creative exploration meetups in-person and online. She is also a collector of fountain pens, hoarder of art supplies, avid journal-keeper and journal-maker, Programming Chair for Pacific Scribes, lawyer, and member of several calligraphy guilds. You can find Mi Mo on Instagram @michelle.l.mo and @calligra_mi.
---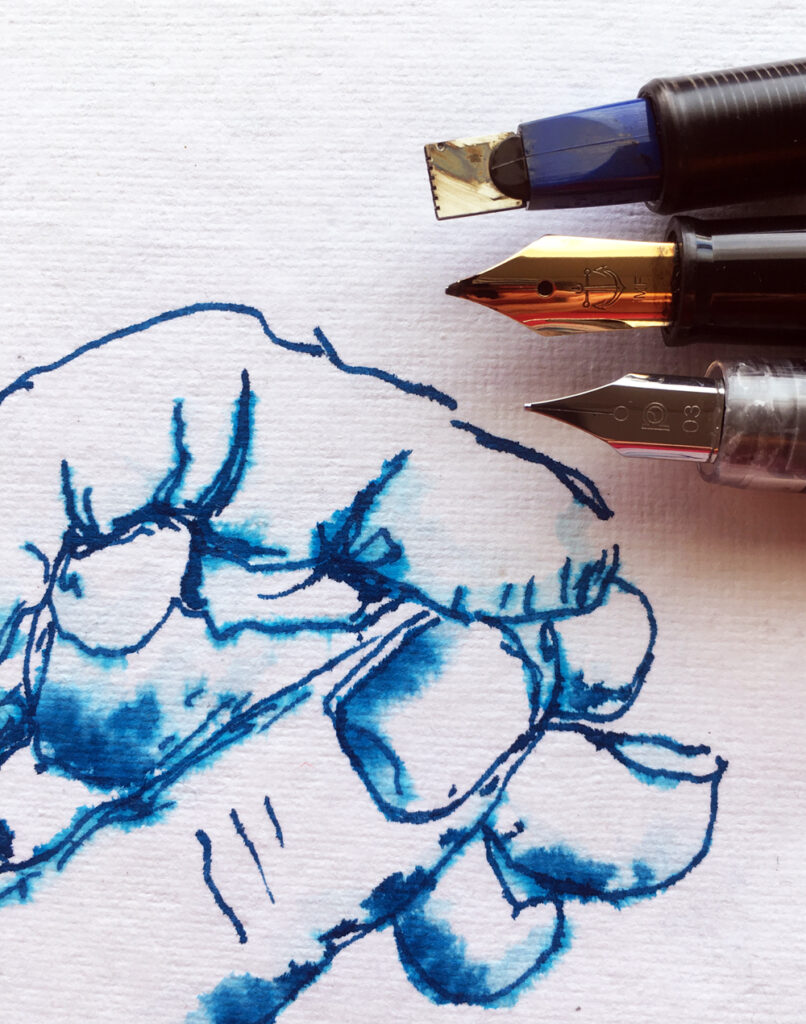 Fountain Pens for Expressive Urban Sketching
Instructor: Eileen Goldenberg
1:30-3:30pm
Tuition: $105
Limit: 15 students
Sketching with Fountain Pens will show you many ways to use your fountain pens as a drawing tool. There are so many types of nibs, inks and paper the possibilities are endless. I will show you some basic concepts of drawing: line, shape, shadows, etc. I will also show how to add color to your sketch. We will try some sketches of objects and the room. Please bring a sketchbook (watercolor paper would be great) or the paper you like, to class to try out your pens. You can also bring a small watercolor set, water brush.
I will have a table at the Pen Show with my Fearless Felt Watercolor Sketchbooks, and I will bring a few to class as well. These have very good Fabriano 100% cotton Watercolor paper in them.
I will be bringing a few fountain pens with a variety of nibs for you to try. They make different marks and can produce lively sketches.
And of course, bring your favorite pens to sketch with. You can also purchase pens at the Pen show. If you want to try using watercolor I suggest getting a pen such as the Platinum Preppy or Prefounte with Platinum Carbon Black ink, which is permanent.
I will be demonstrating and depending on the weather we might go outside and sketch the bay!!
Please note you have to pay the admission to the show to take the classes.(non refundable)
Questions? eileen@goldenbergdesigns.com
Register at https://www.goldenbergdesigns.com/classes-2
---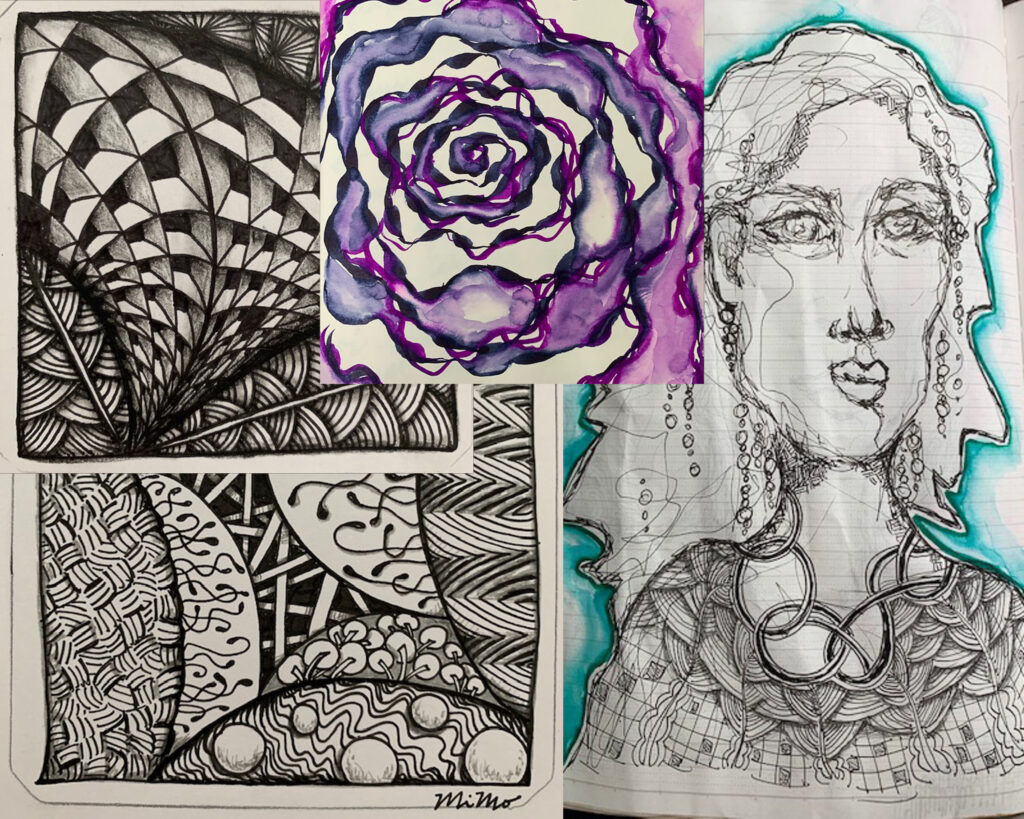 Meditative Doodles (Fountain Pen Edition!) with Mi Mo
Free your mind, slow it down, relax, and play with your new fountain pens and inks
Instructor: Michelle Morin/ Mi Mo
3:30-5pm
Tuition: $15. Pen show admission required (not included). Sorry, no refunds.
Limit: 15 students
In this class you are invited to take a break from your day of pen shopping and ink sampling to slow down, relax, and breathe through a meditative doodling practice with pen and paper. We will play with and appreciate our new pen and paper purchases while letting go of perfection and debunking the false myth that only people with "artistic ability" get to draw and doodle. No artistic ability necessary for this excursion through a few of my favorite doodling techniques.

If you are interested in continuing to explore meditative doodles, I also recommend checking out Amy Maricle at Mindful Art Studio (free weekly "slow drawing parties" online), Yellena James (book: Star, Branch, Spiral, Fan), Beckah Krahula (book: One Zentangle a Day), Sharla Hicks (book: Tangle-Inspired Botanicals), and Christa Forrest (online: Creative Souls Art). Also, this is not Zentangling, nor a Zentangle- authorized class, but, as with many meditative doodling and art therapy activities, we owe much to the heritage of the Zentangle tradition, and some of the techniques I'll demonstrate incorporate principles common to Zentangling. Check it out with a certified Zentangle instructor if you want more in that direction.
Supplies needed:
I will bring some paper and doodling tools to demo and share, but you should bring at least a pen and paper you enjoy writing or drawing with.
A pen or other writing tool. Perhaps a new fountain pen and ink purchased at the SF Pen Show?
Optional: bring both a fountain pen inked with water-soluble ink, and a pen with waterproof ink, like a Pigma Micron (any size) or a Sharpie pen, or a fountain pen containing Platinum Carbon Ink.
Optional: bring fountain pens with different nibs, such as a fine, a broad, a stub, a fude/folded nib, either inked with different color inks, or all inked with the same color ink.
---
Paper of your choice. Bring fountain-pen friendly paper, if you wish. Can be a new notebook acquired at the pen show….
Optional: water brush (pointed tip), for example a Pentel Aquash (any size, but smaller is probably better), or a small, pointed paintbrush (like a round size 0 or 1 or 2), and some paper towels or a napkin.
Optional: pencil, preferably 2B or softer, for adding shadows or other shading.
Optional, if you choose to bring a pencil: tortillon (paper stump), for shading. (You can also just use your finger or a rolled-up corner of a paper towel.)
Optional, if you choose to bring a pencil: a fine-point eraser, such as a Tombow Mono Knock 3.8 or a Tombow Mono Zero
---
SUNDAY, August 29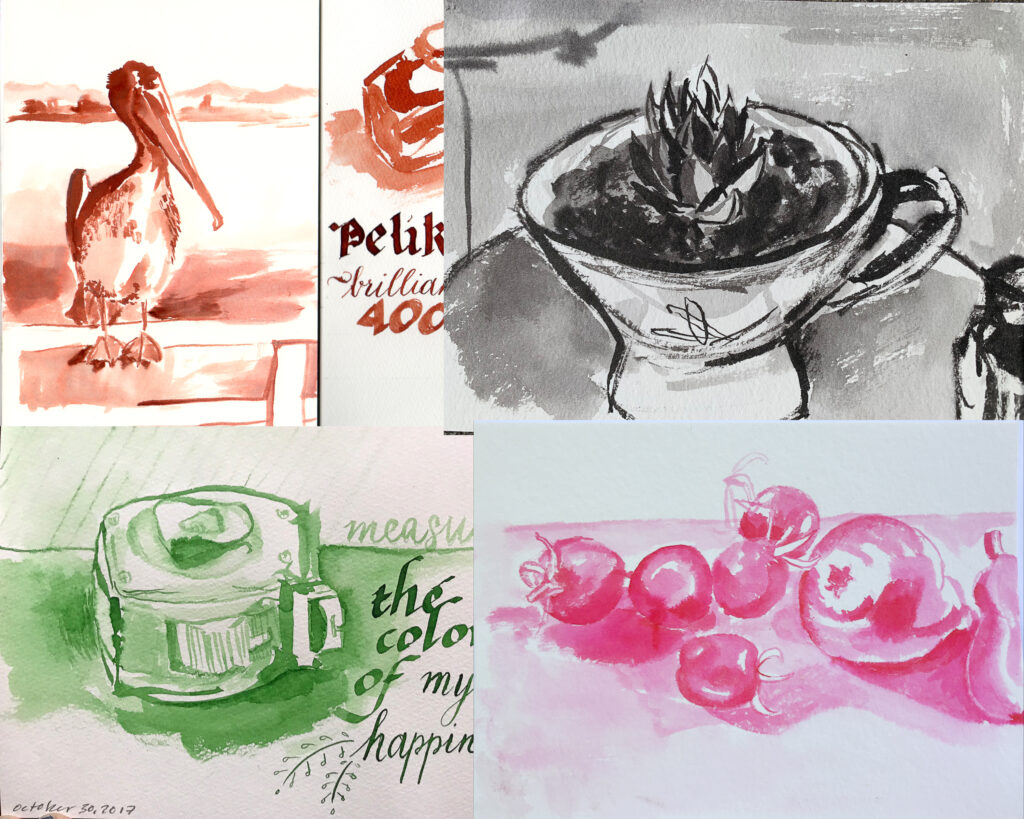 Inkwash Workshop: Painting with Ink
Instructor: Julia van der Wyk
9:00-11:00am
Tuition: $75
Limit: 10 people
This one is for the ink-lovers! Explore the depth and range of ink using brush painting techniques. Practice along with the demonstrations to discover different ways to create lines and shading with a round paintbrush, using only ink and water on paper.
During the workshop time you'll paint from life or your imagination to practice your new skills. Prior experience using brushes is handy, but not required.
Materials and handouts will be provided.
Optional: Bring an object for still life.
For any questions and to register for Julia's class, please email: juliavdw11@gmail.com
---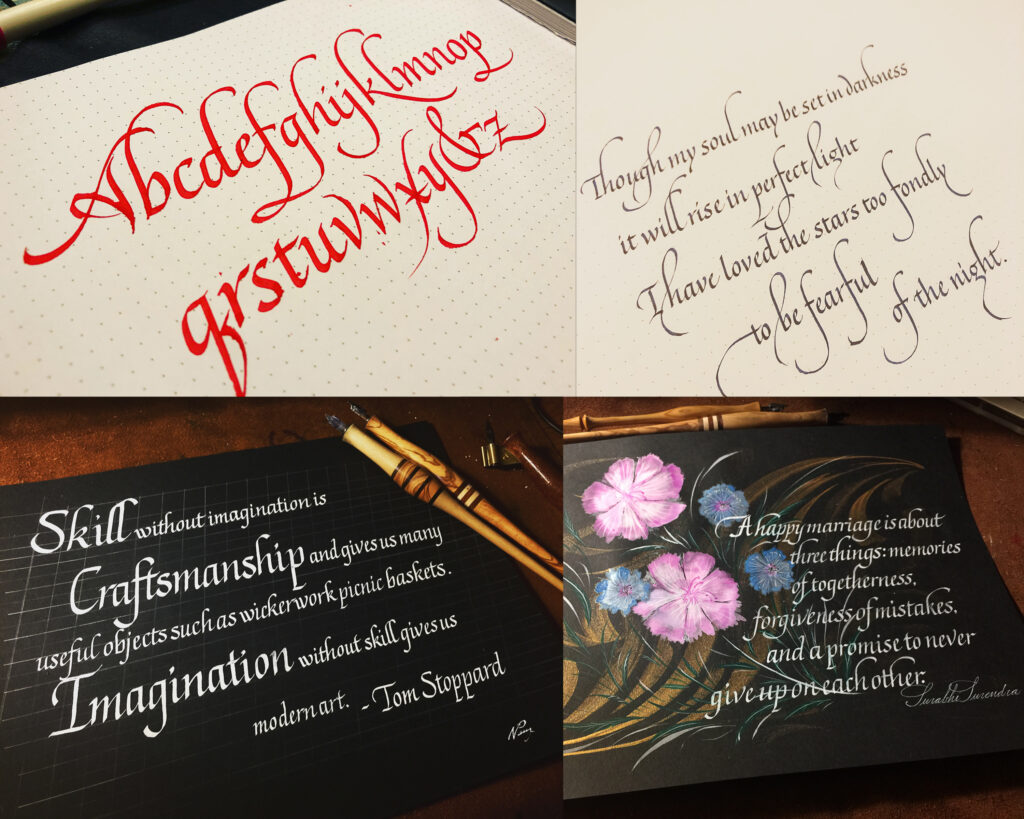 Introduction to Italic Calligraphy
Instructor: Nik Pang
9:00am-12:00pm
Tuition: $80
Limit: 15 people
Join me in learning the beautiful, classical, forms of Italic script! Cancelleresca, or Chancery hand, came about from a marriage of humanist and Roman forms and really hit its stride during the period we know as the Italian Renaissance. These scripts were so popular in their multitude of variations that they quickly became adopted by both the church and became adopted throughout the old world as a standard. This widespread use lead the slanted, broad pen, script to such renown that, even today, we still call many small broad nibs "italic". Classically beautiful, flowing, very nearly ideal in readability and highly refined through the ages it's no wonder that Italic is still considered by a large number of calligraphers and typographers to be a "perfect script".
In this course we will focus on the history, forms, and execution of creating classic (and perhaps a few contemporary) Italic hands.
The course includes all materials and handouts. If you wish to bring your own tools feel free. Attendees are also encouraged to bring their own ruler and mechanical pencil if possible. Hope to see you there!
---