Below is the schedule for the admission-free seminars and events at the 2023 San Francisco Pen Show as of August 20th.
For seminar/event descriptions, please scroll down past the schedule. Thank you!
Friday, August 25
Pen Shows 101 with Tour
(All Access Pass only)
By: Kimberly Lau
10:00-11:00am
Pen Sharing
By: Lisa McLean
11:30am-12:30pm
Silent Auction Preview
Room: Poplar Conference Room
12:30am-1:30pm
Previews: PCA Auction
and Silent Auction
4:00-5:30pm
Pen Auction
Hosted by: Pen Collectors of America (PCA)
6:30-8:30pm
---
Saturday, August 26
Pen Shows 101 with Tour
(All Show Passes)
By: Kimberly Lau
9:30-10:30am and 1:00-2:00pm
Kyuseido by TokyoStationPens collaboration event with Ben Walsh Design
10:00-11:00am
Pen Sharing
By: Lisa McLean
11:30am-12:30pm
Silent Auction Preview
Room: Poplar Conference Room
11:30am-12:30pm
Stationery Meetup
Hosted by: SF Stationery Meetup
1:00-3:00pm
Pen Posse: Stationery Swap/Destash Edition
Hosted by: SF Pen Posse
3:00-5:00pm
The Stationery Cafe Happy Hour
Hosted by: The Stationery Cafe Podcast
8:00-10:30pm
---
Sunday, August 27
Planner Meetup
Hosted by: Bay Area Planners
9:30-11:30am
Pen Shows 101 with Tour
(All Show Passes)
By: Kimberly Lau
9:30-10:30am
Pen Sharing Q&A Meet & Greet
By: Lisa McLean
11:00am-11:30am
Nibs from A Nib Worker Perspective
By: Sunny Koh
12:00-1:00pm
Pens for Kids Workshop
Hosted by: Pen Collectors of America (PCA)
1:30-2:30pm
---
Seminar / Event Descriptions
Pen Shows 101 with Tour
By: Kimberly Lau

First time at a pen show? Unsure of what to say or do when you're perusing the sea of pens on each table? No idea what you're getting into?
Well, Kimberly's got you covered as she will share good pen show etiquette, and perhaps some tips and tricks as well. Learn ways to examine a pen you're interested in, and how to speak with vendors.
After Kimberly's short presentation, she will lead the group on a tour around the pen show floor. It's good to get to know the usual people in the pen show circuit, as well as the local San Francisco pen vendor crowd.
Important note: Please purchase your General Admission or All Access Pass prior to the seminar. The show passes are required to be part of the pen show tour.
---
Pen Sharing
Presenters: Lisa McLean and UK founder, Jon Rabbett
Pen Sharing is Coming to the U.S.
Join us this weekend at the San Francisco International Pen show and learn how you can become part of this vibrant, fountain pen loving and sharing community. Pen sharing is a fun new way for fountain pen novices and enthusiasts alike to discover and try new-to-them fountain pens by renting a pen from one of our members who would like to share their collection with you.
Pen sharing has been superbly successful in the UK and now it's crossing the pond and making pen rentals available to US-only members. It's fun. It's new. And it's a super way to enjoy fountain pens whether you want to dabble or deep dive into this hobby.
Come learn more at one of our free seminars every day this weekend. See you there!
---
Silent Auction: Toyooka Craft x Bokumondoh
Something special this year is the silent auction featuring wooden pen boxes from Japan that were created by Toyooka Craft, which were adorned with various urushi lacquer techniques by Urushi Studio Bokumondoh.
For more details, click here: https://www.sfpenshow.com/silent-auction-toyooka-x-bokumondoh/
---
Pen Auction
By: Pen Collectors of America
Friday – August 25, 6:30-8:30pm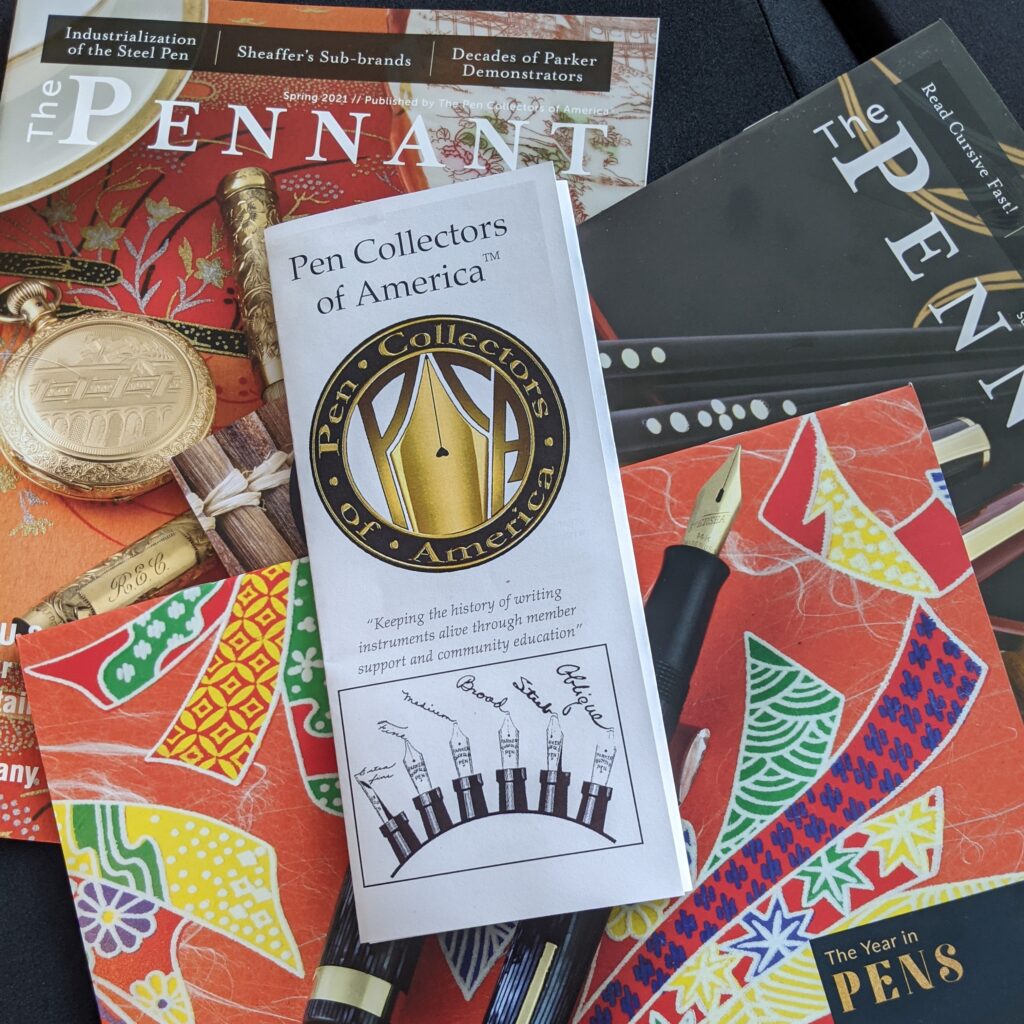 Check out this year's PCA pen auction lots: https://www.sfpenshow.com/pca-auction/
The Pen Collectors of America® (PCA) is a collector-run registered nonprofit educational organization, serving all interested in the history, collecting, and use of fountain pens and other writing instruments.
The PCA's origins date back to 1986, when Dr. Robert Tefft organized the first gathering of Southern California pen collectors at his home. Before long the group, now known as the Southern California Pen Collectors Club, was meeting at a member's home every two months, and before much longer, there was a newsletter and a reference library of old ads, catalogs, repair manuals, and other pen-related material, all member-contributed. The SCPCC did not actively promote itself, but as it grew, membership applications came in from across the country. To defray the cost of printing and mailing the newsletter, nominal dues were adopted as membership approached 100.
By 1991 membership had truly gone national, even international, and so the SCPCC changed its name to the Pen Collectors of America®. The club newsletter, by now on its way to becoming a magazine, was named The Pennant®. The Reference Library continued to expand, offering members the opportunity to order photocopies of thousands of pages of rare and otherwise inaccessible reference material. Eventually the entire holdings of the Library were digitized by PCA volunteers and made available through the PCA's website. These efforts continue to this day, as new documents are constantly being scanned and uploaded. In recent years, the PCA's preservation mission has extended to archiving copies of pen-related websites and online forums, too many of which have already been irretrievably lost.
Membership is open to all, and includes three copies per year of the PCA's magazine, the Pennant®, plus an illustrated PCA calendar. Rates are $45/year within the USA, $70/year outside. For payment by PayPal, please contact us at [email protected] to be invoiced. Payment by check or money order can be sent to: PCA, c/o Todd Eberspacher, PO Box 455, Millbrae CA, 94030-0455.
---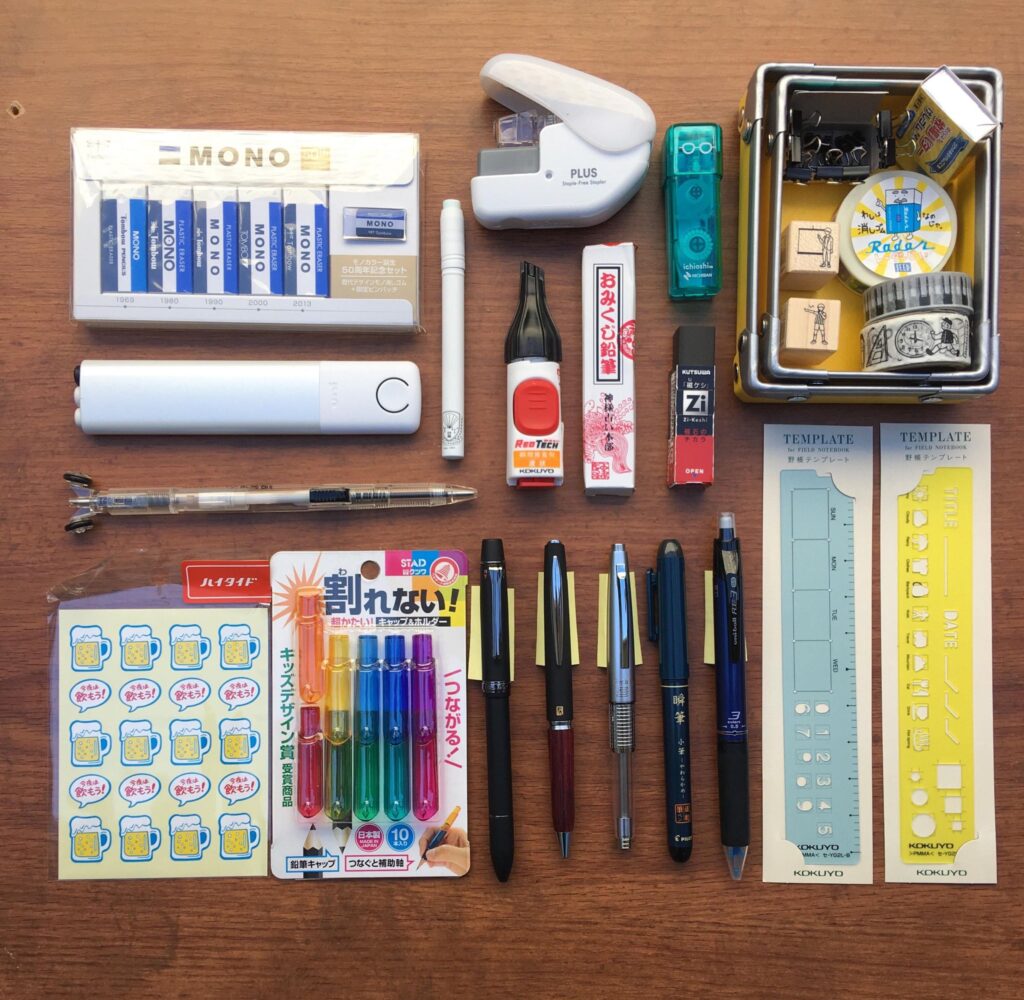 San Francisco Stationery Meetup at the Pen Show
Saturday – August 26, 1:00-3:00pm
We are a group of stationery nuts who get together every second Saturday in Japantown to show-off and share our latest acquisitions. Our focus is usually on the sub-$20 product range of awesome and functional daily-use products. We are grateful to have Maido Stationery as a regular sponsor, each month giving us early access to their latest imports from Japan.
At this session, we will give you a feel for the group's activities with tables full of our own stash of planners, stencils, pencils, sharpeners, and innovative Japanese stationery products for you to play with. Take a break from the $500~ products on the show floor, and spend a little time playing with the awesome products that don't burn a hole in your wallet.
---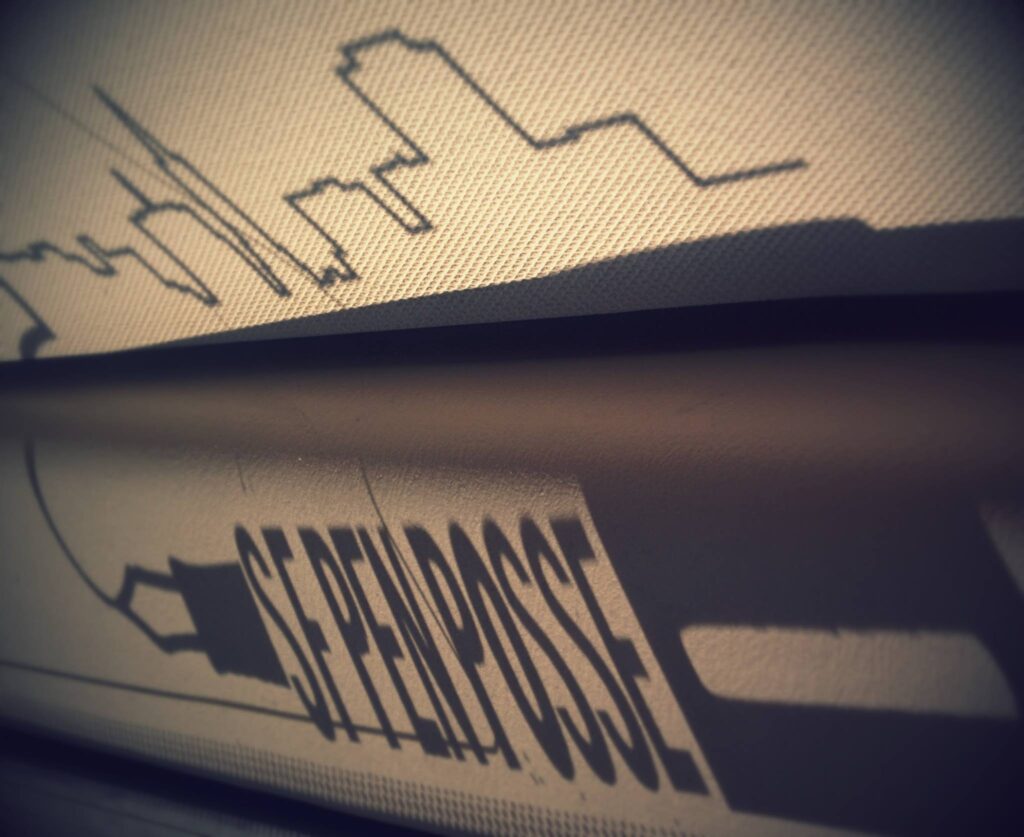 Come swap & destash any stationery (or adjacent) supplies that you're ready to re-home! This can include, but isn't limited to: pens (fountain or not), inks, notebooks & other paper goods, washi, stickers, notebook covers… etc.
Such a great way to give new life to your gently used and unwanted stationery items. This event is also a terrific opportunity to meet some people who are part of the San Francisco Pen Posse.
Since 2007, the SF Pen Posse is the local "non-club" pen group that meet in person around the Bay Area. If you live in the SF Bay Area, this is a great group of people to regularly geek around pens and stationery with.
---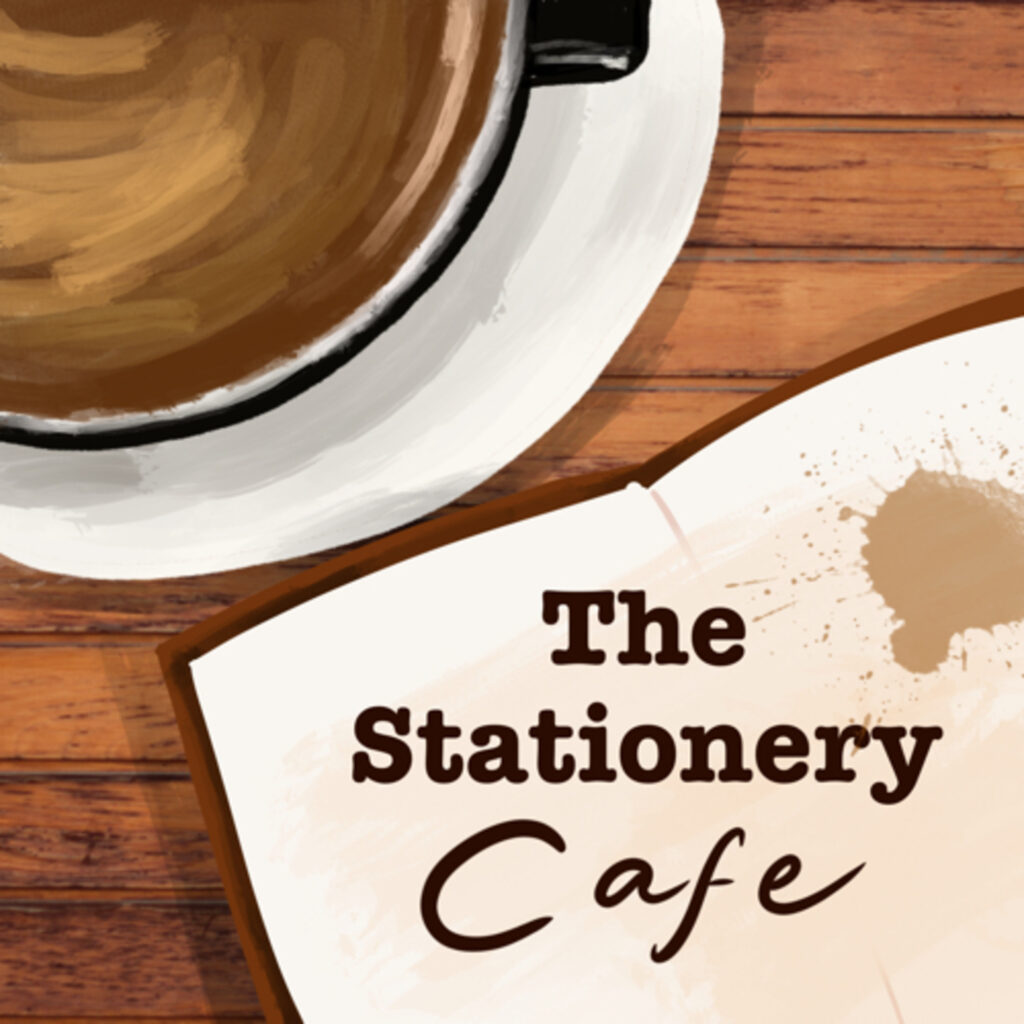 The Stationery Cafe Happy Hour
Hosted by: The Stationery Cafe Podcast
Saturday – August 26, 8:00-10:30pm
The Stationery Cafe Podcast is a podcast with candid conversations about journaling-related topics with artists and stationery enthusiasts. We talk about pens, notebooks, stationery, artists, and more. This meetup is an opportunity for people who are in the community or new to the podcast to hang out with each other informally after pen show hours. You can meet the co-hosts of The Stationery Café or meet many friends they've interviewed over the years.
We welcome anyone who is interested in stationery to join us in this "Happy Hour" to share your love for latest stationery releases, techo kaigi, or recent acquisitions at the pen show!
---
Planner Meetup
By: Bay Area Planners
Sunday – August 27, 9:30-11:30am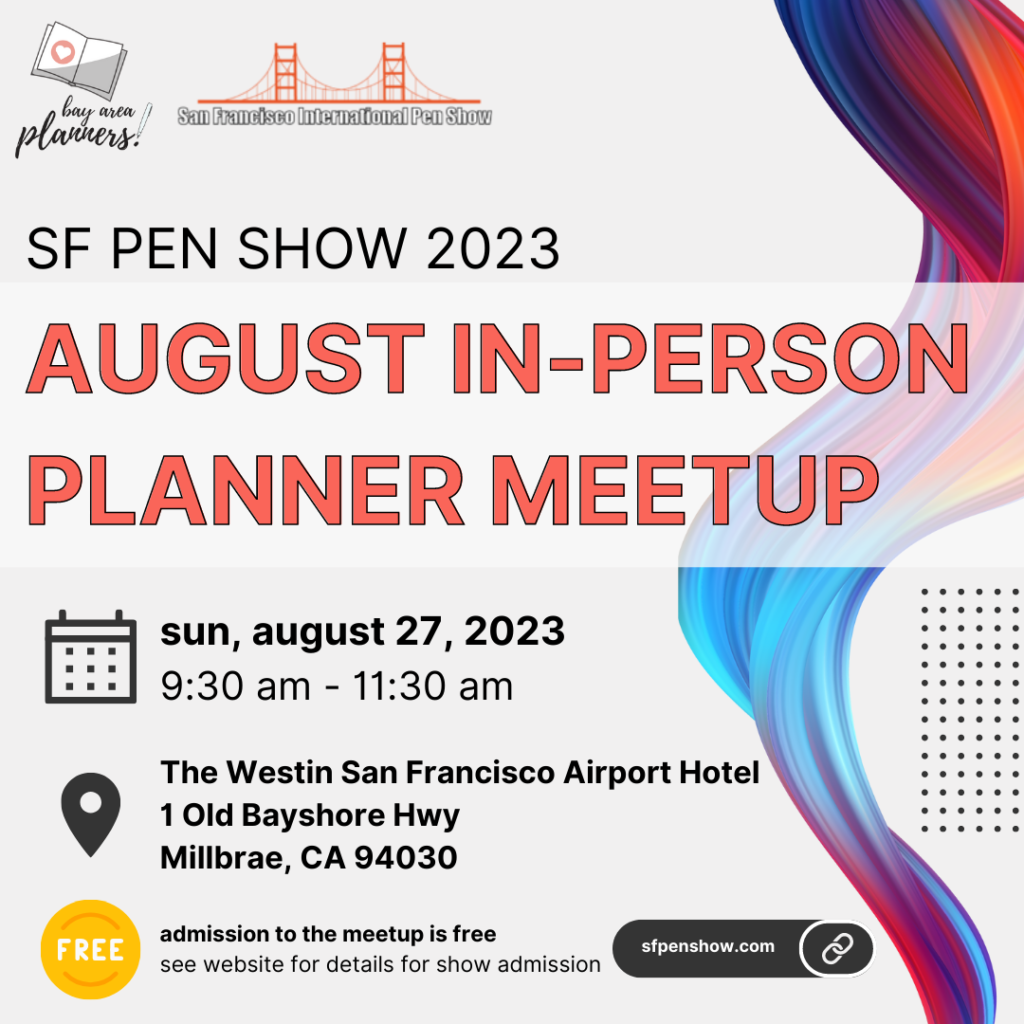 What's a planner meetup? A planner meetup is a meetup of people who enjoy using paper planners!

What do we do at a planner meetup? Our meetups are very informal. Feel free to bring your planner(s), chat about your planner setup and your plans for next year's setup, share your planner setup and spreads, bring your planner accessories (pens, stickers, washi) to work on your planner at the meetup, and to the extent attendees are willing, sample each others' washi; look at, hold, or try each others' fountain pens; and check out each others' planner covers! All planner users are welcome.
Bay Area Planners was founded by Patty Tsai in 2017. When we first started, we hosted a variety of planner meetups in the Bay Area to encourage users of the Hobonichi Techo to get together, share their Techos, and view Hobonichi covers in-person. Over time, we've expanded to inviting all planner users, and expanded even beyond planners to inviting stationery and pen aficionados! Soon, Tori joined Bay Area Planners as a host. Since her move out of the Bay Area, Caitlin is also now one of our hosts for meetups. We're a diverse group of community members that use and are interested in using paper planners, including but not limited to Hobonichi Techo, Traveler's Notebook, Happy Planner, and more. Since the pandemic, Bay Area Planners has also begun hosting virtual meetups, expanding our community to planner users around the world. We've hosted over 45 meetups since 2017, with some meetups having up to over twenty attendees. Find out more about Bay Area Planners at https://tiny.cc/bayareaplanners.
---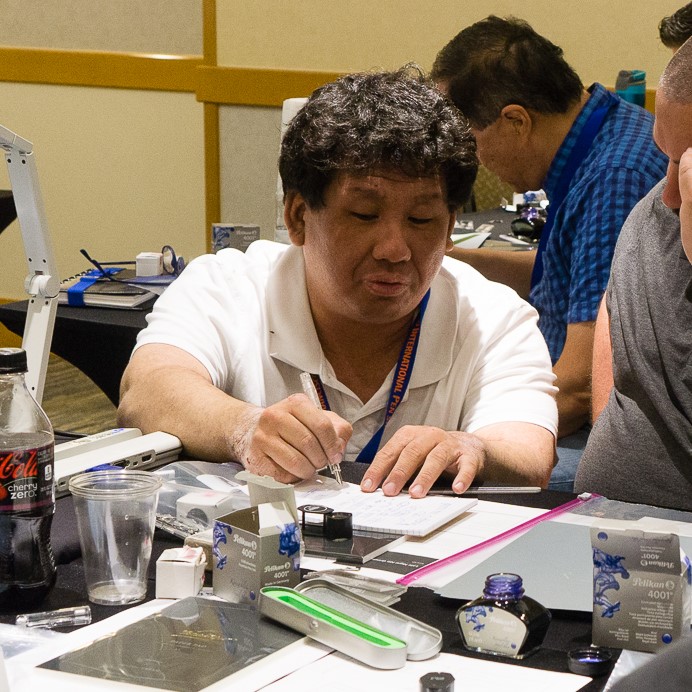 Nibs from A Nib Worker Perspective
By: Sunny Koh
Sunday – August 27, 12:00-1:00pm
Mr. Sunny Koh of Straits Pen Singapore will present a free seminar on understanding the different types of nibs and how it affects the writing experience. How does nib material affect the writing experience? Learn what sort of design philosophy of some of the different manufacturers of pens. Explore the different nib styles and how repairable they are.
---
Pens for Kids Workshop
Hosted by: Pen Collectors of America
Sunday, August 27: 1:30-2:30pm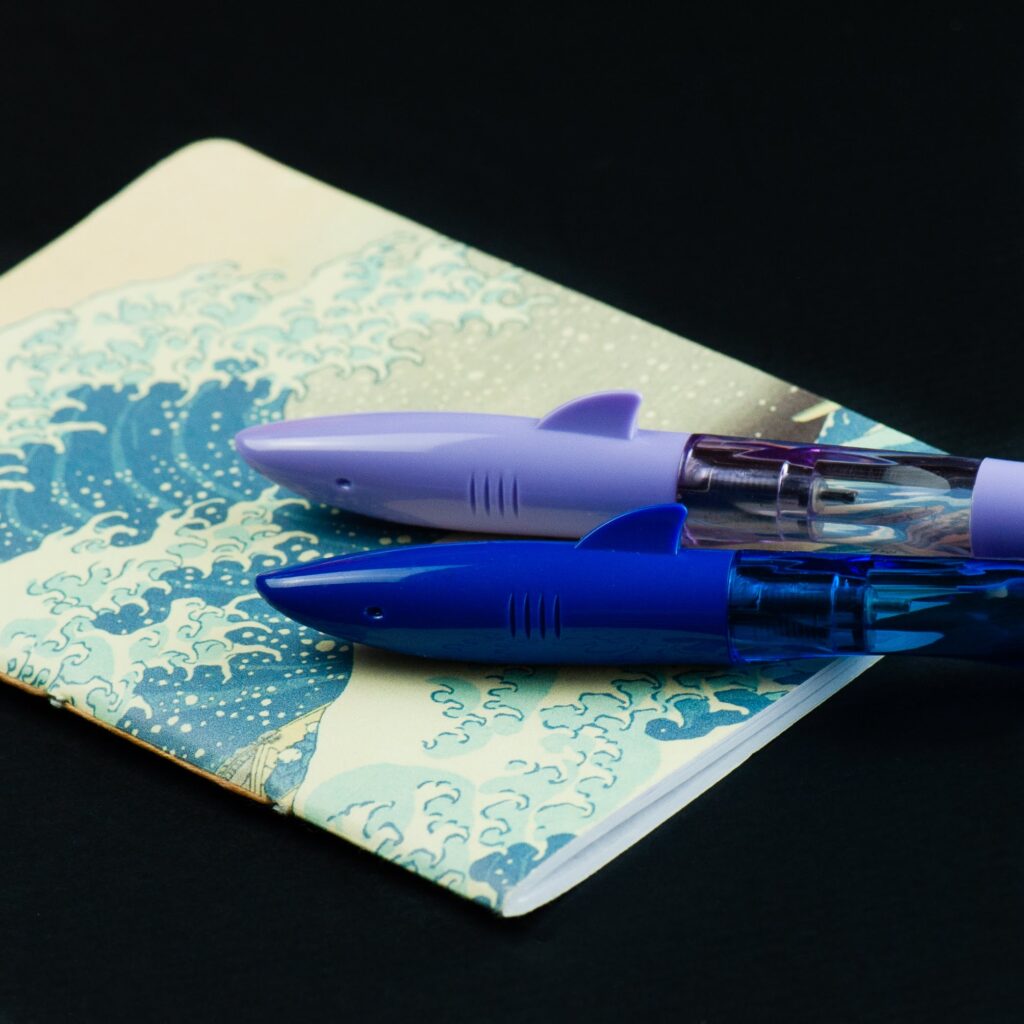 The PCA's Pens for Kids® (PfK) program is now entering its third decade of introducing children to the use and history of fountain pens. Workshops typically take place at pen shows and schools. They are volunteer-run and free to the participants, who each receive an inexpensive fountain pen of their own to take home.
Another popular PCA-run activity for younger pen show attendees is a scavenger hunt, which introduces the hunters to both pens and the show exhibitors.
---